SageRAN Participated in the 2022 Qualcomm Ventures CEO Summit
Time:2023.06.12
Author:SageRAN
The 2022 Qualcomm Ventures CEO Summit was held on October 12-13 in San Diego, USA. Qualcomm invested companies, industry partners, and well-known venture capital institutions from around the world gathered to exchange and discuss current technology trends and innovations. Topics covered included 5G, artificial intelligence, automotive, IoT, and metaverse. At the summit, Qualcomm Ventures invited 10 invested companies from around the world to showcase their business and technology, and SageRAN was the only 5G small cell company to participate in the live demonstration.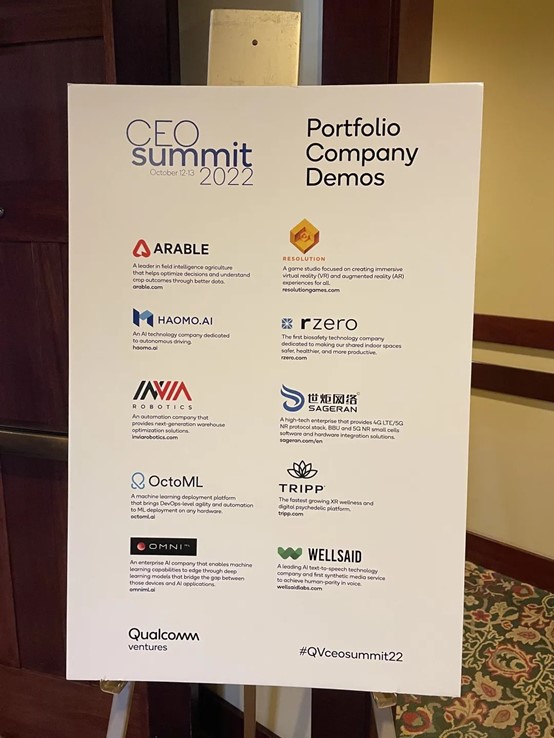 During the summit, SageRAN showcased the Lite-5G@Suitcase solution, which was jointly developed with Alibaba DAMO Academy XG Lab based on the Qualcomm FSM100 5G RAN platform. The solution integrates SageRAN self-developed 5G indoor small cell, Alibaba's lightweight 5G core network equipment, and Alibaba O&M Pad all in one suitcase. It is currently the smallest 5G network equipment in the world. At the summit, SageRAN demonstrated the efficient and stable transmission of voice, video, and data services for users, as well as convenient operation and maintenance capabilities achieved within five minutes of 5G network deployment.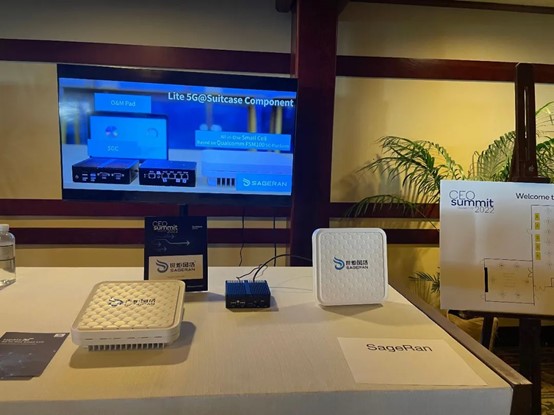 The Lite-5G@Suitcase solution is designed for general needs of industry private networks and has features such as portability, flexibility, rapid deployment, low cost, and high performance. It is highly integrated and ready-to-use out of the box, can be started in five minutes, and can also be modularly customized to meet different network capacity requirements. It has significant cost advantages and is suitable for large-scale promotion. It has high transmission efficiency, large user capacity, low service latency, and convenient operation and maintenance.
The application scenarios of the Lite-5G@Suitcase solution can be divided into three categories: laboratory product development verification and industry private network deployment, including smart buildings, 5G supermarkets, metaverse, smart factories, smart parks, etc., as well as emergency communication to provide reliable 5G network coverage for disaster areas quickly. Currently, Lite-5G@Suitcase has been deployed in multiple industries in China. In the future, SageRAN Networks will continue to work together with many industry partners to explore 5G application innovation and create a good 5G industry ecology of communication and mutual benefit.