Unity™ Outdoor Integrated Base Station 5W
This product is based on the advanced multi-core ARM and FPGA scheme, and adopts the integrated design of 5G BBU and RRU to realize the complete 5G NR wireless access network function, which can quickly and quickly establish a 5G wireless network with large bandwidth, low delay and high reliability for users. This product has the advantages of low power consumption, small size, convenient engineering construction, and is especially suitable for 5G+ vertical industry applications such as intelligent manufacturing, smart mining, and smart parks.

Download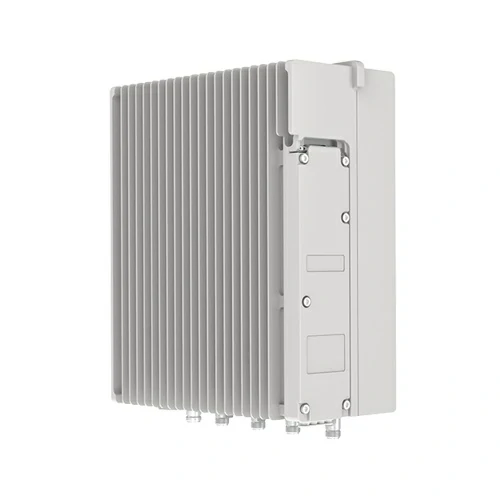 Description
Features
Networking
Specifications
SageRAN Unity™ 5G Integrated Base Station leverages the NXP LX2160A platform, featuring low power consumption, easy customization, and high integration capabilities. It is ideal for industry-specific applications and boosts wireless network performance in rural areas with limited operator or carrier coverage.
This compact base station integrates the 5G baseband module and radio module, pre-installed the SageRAN`s Engine™ 5G L2 L3 software, to provide a high performing 5G wireless access network.
Features:
Energy Saving: Power consumption less than 300W
Quick Installation: No need for server room or air conditioner, easy to install
Rapid Response: Supports quick deployment and rapid to set 5G network
Waterproof & Dustproof: Protection degree: IP65
Agile Scalability: Supports gNB cascading and RRU expansion
Cost & Efficiency Promotion: Reduces construction and maintenance costs, improves efficiency
Networking:

Specifications:
Items

Index

Items

Index

Duplexing

NR TDD

Peak Rate

DDDSUDDSUU

Support multi subframe ratios

Frequency

N78/N79

UL 1.0Gbps , UL 300Mbps

IBW

40MHz/60MHz/100MHz

Sync.

GPS/ BeiDou /1588v2(Optional)

Modulation

256QAM/256QAM(DL/UL)

Antenna

External Antenna

Cell No.

1x100MHz 4T2R cell

Power supply

AC 220V

Output Power

4 x5W (Power rates customizable)

Power Consumption

< 240W

Activated users

≥ 200/cell

Dimension

340×285×143mm

Connected users

≥ 400/cell

Weight

< 13.5 kg
Energy Saving: Power consumption less than 300W
Quick Installation: No need for server room or air conditioner, easy to install
Rapid Response: Supports quick deployment and rapid to set 5G network
Waterproof & Dustproof: Protection degree: IP65
Agile Scalability: Supports gNB cascading and RRU expansion
Cost & Efficiency Promotion: Reduces construction and maintenance costs, improves efficiency

Items

Index

Items

Index

Duplexing

NR TDD

Peak Rate

DDDSUDDSUU

Support multi subframe ratios

Frequency

N78/N79

UL 1.0Gbps , UL 300Mbps

IBW

40MHz/60MHz/100MHz

Sync.

GPS/ BeiDou /1588v2(Optional)

Modulation

256QAM/256QAM(DL/UL)

Antenna

External Antenna

Cell No.

1x100MHz 4T2R cell

Power supply

AC 220V

Output Power

4 x5W (Power rates customizable)

Power Consumption

< 240W

Activated users

≥ 200/cell

Dimension

340×285×143mm

Connected users

≥ 400/cell

Weight

< 13.5 kg